From The Desk of The Chairman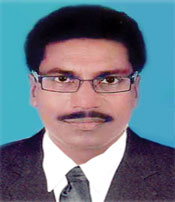 I extend you a warm welcome in our school, JC. MEMORIAL INTERNATIONAL SCHOOL. True education is a comprehensive concept. Education engenders in an individual the sense of values, an urge for serving not only one's own self or that of the family, but also the larger humanity of which we are a part and parcel. The purpose of education is to enlarge our vision of the milieu in which we move to broaden our concept of true development which includes the development of all, and to make us capable of responding to the needs and aspirations of our fellow men and women in the society, who directly or indirectly contribute to our growth and development.
JC. MEMORIAL INTERNATIONAL SCHOOL serves the purpose of developing and nurturing a child through proper guidance. Our vision and mission is to provide an overall healthy, vibrant and an environment conducive to learning. We are determined to achieve our set targets in the form of overall achievements of your wards. Let us work together to bring out the best in your ward to grow them filled with human virtues of creativity, brotherhood, patriotism, true sportsman spirit, discipline and best morals.
Regards,
Mr. Purendu Sekhar Mandal